Is your block paving looking tired?
Perhaps it's ingrained with dirt over years of use, or the sand has become a hotbed for weeds. Maybe you've recently moved an object that covered a section of your path, and this highlighted how dirty it is!
If so, this blog is for you.
You see, you don't have to lay a new path to get your premises looking its best. That's because, with the right equipment and lots of enthusiasm, it's possible to restore block paving to almost new.
Here's how…
Before & after
Check out this image. It's typical of the type of block paving we're called in to clean.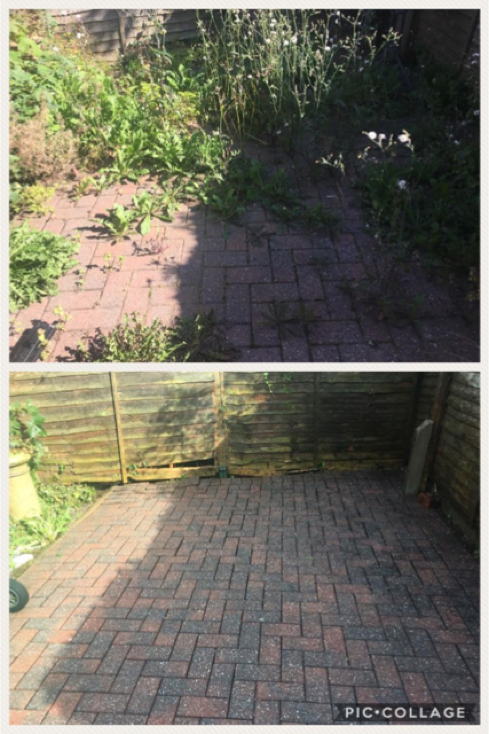 As you can see the brickwork is covered in moss and grime and it's hard to see the original red colour.
But look at the transformation!
Gone is the moss and weeds and instead, a gleaming patio that looks like it was laid recently.
Imagine the difference this clean would make to your exterior.
Here's how to get the look.
Sweep
Firstly, sweep the area to remove dust and debris.
Pressure wash
Exactly as the name suggests, a pressure washer sprays water onto a surface at high pressure. As a result, it can remove everything from chewing gum to mould, dust, algae, green growth and even loose paint.
Hot water is preferable to cold as higher temperatures are more effective at removing ingrained grease and grime
A pressure washer with a rotawash attachment will ensure the water is distributed evenly
An appropriate detergent can help remove the most stubborn stains
One more thing… Remember to take care when working with high pressures to avoid damage to the stonework and minimise the amount of jointing sand that's washed away.
Add sand
If necessary, top up the jointing sand for an even finish.
Seal
Once the paving is clean, seal with a high-quality sealer. This will help avoid staining and also prevents water seeping into the blocks.
Call in the experts!
While this is a cleaning job you can do yourself, you can save time (and get a much better finish) if you hire a commercial cleaner.
We have the tools, knowledge, and enthusiasm to wow you with results and restore your block paving to almost new. Whether that's your car park, patio area, or driveway, our team are ready to transform your premise's exterior – so you can impress your customers.
And if you're wondering why you should choose us, check out this recent feedback.
"Could you please pass on my thanks to the guy who jet washed at Wrexham. He's done an amazing job and front looks like a new path." – Andy Gray – B&M Direct
"Alpha Power Clean finished the job to a high standard, and my driveway looks like it has just been laid it looks like new. So thanks Alpha for taking care of my block paved driveway… I wouldn't go anywhere else in the future." – Martin McLaughlin, Motor Marks
To book your commercial clean or to get a quote, simply get in touch.